It's been around a week since my last post. That's not long at all, but for some reason it feels like forever. My little family went on a road trip to Chicago for my annual Family Reunion. It's ALWAYS a great time getting together with family. I will post a few pics in a future post and introduce you guys to a some of my near and dear family members =D
For now on to the clothes. It's crazy where inspiration comes from sometimes. My outfit was inspired by my baby girl. She got dressed, and I loved the colors that she had on. My mind immediately went through my closet.
She really didn't want me to take the pic, but hey… what mama says GOES! =D
I think I captured the colors pretty well. The tank was just flowy
(yea, I said it!)
enough for the weather, and one can never go wrong with white pants. On to the shoes. These are my Fergalicious babies! Sometimes wedge shoes with a cork or yarn-like heel throw me off. I didn't care with these shoes though!! I had to have them! When I first saw them, they were $59.99. I really wasn't in the mood to spend that much on shoes at the time. Y'all know I love a good sale and/or clearance!! I left them at the store :( Well wouldn't you know that my sis-inlaw was shopping at another store and saw them on clearance!?! She sent me a text, and I was up there immediately! Copped for $19!! BOOM! They are super comfy, and I love the color.
Until next time…
UPDATE: I've linked up for another edition of Trendy Tuesday with Corie over at
Its My Taste
! Head on over to check it out!! You should link up too! =D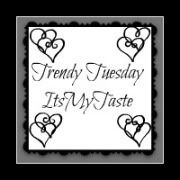 White Tank - Target
Green Tank - H&M
Pants - Old Navy
Shoes - Fergalicious - Herberger's (Bostonian, Carson Prairie Scott)